A game that was billed as a battle between two premier passers — one nearly 40 NFL scouts and executives went out of their way to attend — wasn't the back-and-forth points parade so many were promised. But Thursday night's national TV audience and those who braved the North Shore rain saw Pitt's ACC pulse stay beating in overtime.
Kenny Pickett, who didn't play like the perfect Heisman Trophy candidate, stepped up when it mattered most — hitting tight end Lucas Krull for an 11-yard touchdown in the first and only overtime period. Pitt's defense, which slowed down superstar signal-caller Sam Howell most of the night, then held up its end, forcing a fourth-down turnover.
M.J. Devonshire's game-sealing interception sent the Pitt sideline and those in the yellow seats of Heinz Field into delirium — and it kept the Panthers' conference title hopes alive and well.
Pitt beat North Carolina, 30-23, moving to 8-2 on the season overall and, more importantly, 5-1 in ACC play. It wasn't pretty, but the Panthers continue to control their own ACC Coastal division destiny entering the final two weeks of the regular season.
Craig MeyerPitt-North Carolina delivers drama yet again as Panthers win
"What a ballgame, huh?" Pitt coach Pat Narduzzi said, walking into the media room. And it sure was a doozy.
Pickett completed 25 of 43 passes for 346 yards, three touchdowns and one interception. His play wasn't flawless. But Pickett still outdueled Howell — who, excluding a wide-open 76-yard touchdown pass in the second quarter, managed 220 yards on 32 passing attempts.
Pitt's offense, which sputtered and failed to score in the second half, was fortunately picked up by its somewhat maligned defense. Randy Bates' unit, one that was picked apart in shootout losses to Western Michigan and Miami, was stout. Howell was sacked five times, and North Carolina went 1 of 4 on fourth-down tries.
The final fourth-down attempt, of course, sealed the Tar Heels' fate.
After Krull's crucial grab and Sam Scarton's extra point, North Carolina needed seven points to send it to a second overtime. But the Tar Heels didn't gain a yard in the extra period. Running back Ty Chandler was stopped on first down for a loss of one. Howell tossed incompletions on second and third downs. Then, on fourth down with Howell pressured by Pitt's front seven, Devonshire came down with the game-ending INT.
"There were times when our offense had to bail us out. It was our turn to help them out," Devonshire said, his voice hoarse from Pitt's postgame celebrations. "That's what it's about — being brothers and playing for your brother across from you."
Red-hot start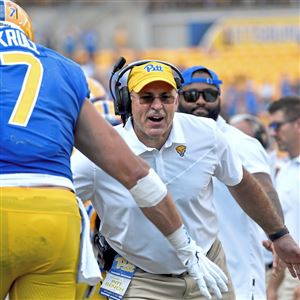 Joe StarkeyJoe Starkey: Visibility remains an issue for Pitt football, which can still have an excellent season
Pitt's last two ACC games were defined by deficits. Two weeks ago, the Panthers trailed by 14 points to Miami after the opening 15 minutes and lost. Last Saturday, they overcame Duke's 12-7 lead (and 210 first-quarter yards) to win big.
Against the Tar Heels, Pitt faced no such early issues. The Panthers pounced on North Carolina, putting together a 17-0 lead in the first quarter.
Offensively, Pickett completed nine of his first 13 passes for 150 yards and a touchdown to true freshman tight end Gavin Bartholomew. On the whole, Pitt's offense outgained North Carolina, 199 to 12, as the Tar Heels struggled to get anything going. North Carolina opened with a trio of three-and-outs, aided by three sacks.
Howell attempted only one pass in the first quarter, an 11-yard gain on a third-and-17.
Another record falls
Pickett waved to the crowd, stood up from his spot on the bench and hugged Narduzzi. There were still three quarters to play, but Pickett had a moment all to himself.
On the previous drive, Pickett became Pitt's all-time passing yards leader. The fourth-year starter's 42-yard completion to Addison moved him past Alex Van Pelt's career total of 11,267 — giving Pickett 13 school records (and counting).
Two remaining records will be toppled as long as Pickett stays healthy. It's a matter of time before Pickett, who has 71 career passing touchdowns and 3,517 passing yards this year, surpasses Dan Marino's 79 and Rob Rutherford's 3,679 in 2003.
"It's awesome," Pickett said of passing Van Pelt's yardage mark. "All the records and awards and accolades, it's really a team effort. So I just want to thank my teammates, my coaches. It's been a hell of a run. We're done yet. We have a lot of work to go."
Up next
Pitt goes from facing one prolific offense to another.
Next Saturday, Virginia's high-flying attack visits the North Shore for a game that could decide the Coastal. The Cavaliers, who play Notre Dame this weekend, control their own divisional destiny if they beat Pitt then Virginia Tech the following week.
Virginia should be dangerous as long as star quarterback Brennan Armstrong is available. Armstrong, who entered Week 11 with the most completions of 20-plus yards in the country, suffered a rib injury at BYU two weeks ago. Bronco Mendenhall's team was off last weekend, and Armstrong's status is unclear against Notre Dame.
Should Armstrong play at Pitt next weekend, Pickett will be in for yet another duel with one of the country's most productive passers — a duel that could determine who takes home ACC offensive player of the year honors and more.